EARTH launched their album with a healing SongBath at Triyoga, Camden.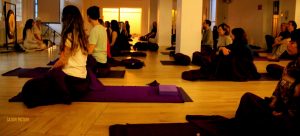 "The Songbath was healing, soothing, purifying and richly evocative. I felt cleansed and cradled, held and heart-opened by the journey you took us on. So much gratitude for such an exquisite, deep, and profoundly moving experience through the delicate beauty of your voice."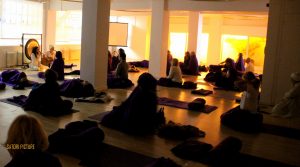 Be guided into deep presence and stillness, beyond relaxation, through this unique SongBath. Vaishnavi and Amy will lead you through a Yoga Nidra practice, where an affirmation (Sankalpa) can be acknowledged, and then repeated again at the end, inviting the seeds of intentions to grow and manifest. The gong will initiate the sound journey, where Vaishnavi and Amy will soothe you with mantra; weaving together their exquisite harmonies, acoustic guitar, percussion and silence.
Participants report feeling deliciously relaxed, soothed, safe, held; experiencing more space in the body, connection and grounding; emotional release and purification. Above all, led back to their own heart and deeply touched.
No experience required, all are welcome.