EARTH's debut album was released in 2016.
Maha Mata draws on different traditions to support the birthing process, be it for a child, a creative project, a new venture or planting seeds for great dreams.
---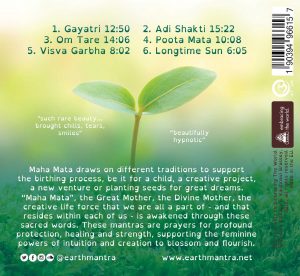 "Maha Mata", the Great Mother, the Divine Mother, the creative life force that we are all a part of – and that resides within each of us – is awakened through these sacred words. These mantras are prayers for profound protection, healing and strength, supporting the feminine powers of intuition and creation to blossom and flourish.
Melodies written by Amy Bisazza, harmonies and arrangements by Vaishnavi Brassey
Produced, mixed and mastered by Marc Jackson Burrows (Marcjb.com) at Velvet Jam (velvetjam.net) for Ambush Entertainment
Lead Vocals & Guitar – Amy Bisazza (findyourinnercentre.co.uk)
Vocals – Vaishnavi Brassey (at-om.com)
Hang – Anne Malone (bluemuse.co.uk)
Cello – Gamaliel Rendle Traynor
Harp – Camille Marie (camillemarieharp.com)