Womb Awakening International Book Launch Event
22nd August 2017 @ 8:30 pm

-

10:00 pm

free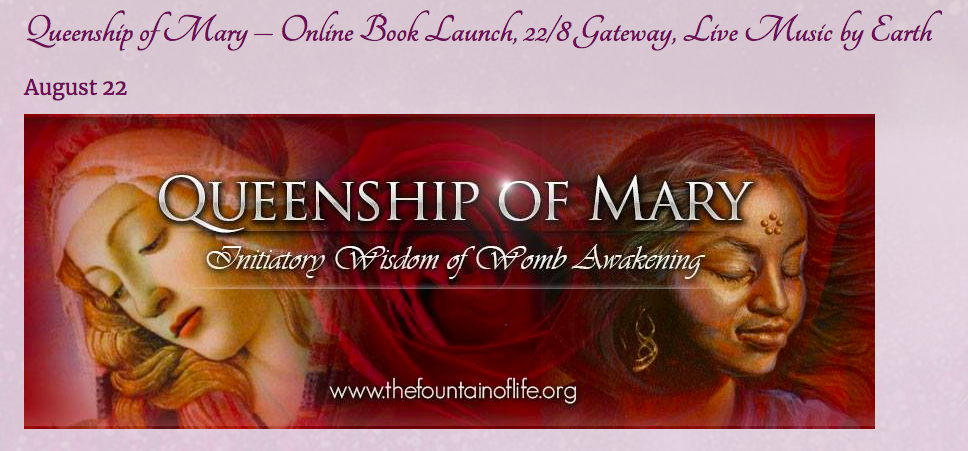 Queenship of Mary 22/8 Gateway
Womb Awakening Online Book Launch
August 22th 2017
Entrance: Free
Join us to celebrate the launch of Womb Awakening on the 22/8 Gateway.
The release date is a significant 'node' in the Womb Mysteries as it is the sacred festival date for the recognition of the Queenship of Mary, where Mother Mary is recognized as the Queen of Heaven, taking her rightful throne as Virgin Mari-Isis.
The title is a consequence of the First Council of Ephesus in the fifth century, in which the Virgin Mary was declared to be the "theotokos" – the Mother of God.
WOMB AWAKENING is the initiatory wisdom of the Creatrix of All Life, which returns us to the love, harmony and passion of our true primordial blueprint.
BUY THE BOOK: At Amazon or in all good booksellers
~~~~~~~~~~~~~~~~~~~~~~~~~~
22/8 Gateway – We will join together to experience:
* An online talk by Dr Azra and Seren Bertrand about their epic Mystery School book, Womb Awakening, and the revolution of reclaiming the power of the Womb
* A live online performance from international Kirtan singers EARTH, described as "the new Mirabai Ceiba" – who will perform "She Who Contains the Entire Universe in Her Womb" and "Long Time Sun" with a prayer-blessing out to the world. http://www.earthmantra.net/
* A shamanic audio journey with the Dragons of Creation to awaken the elemental power of the Womb Throne.
* A worldwide long-distance energy transmission from the Cosmic Womb